Important Society Dates:
| | |
| --- | --- |
| December 9, 2012: | Carols and Tea 2:00 p.m. In Lounge, Knox Metropolitan United Church, 8307 - 109 Street, Edmonton. |
| January 25, 2013: | St Dwynwen Celebration 6:30 p.m. Location: Pub to be decided |
| February 8 2013: | Harp competition, followed by Harp Concert at 7 p.m. MacEwan Alberta College, 10050 MacDonald Drive, Edmonton. Details on the webwww.edmontonwelsh.ca |
| March 2, 2013: | St. David's Day Banquet, Faculty Club, U of A, at 6.30p.m. Tickets $45 from any board member. |
| April 7, 2013 : | Celebration of Wales, Knox Metropolitan United Church 2.00p.m. |
| April 12, 2013: | Annual General Meeting, 9908 -114 Street, Edmonton, 7.00 p.m. |
| Rugby 2013: | date(s) to be confirmed |
Please note also the following events:
| | |
| --- | --- |
| December 2, 2012 | St David's Welsh Male Voice Choir Concert, 2:30 p.m. St. Timothy's Church, 8420-145 Street |
| December 8, 2012 | EKOSingers (with Bethan Franklyn) "Have Your ELF a Merry Little Christmas", Ellerslie Road Baptist Church, 2.00 p.m. |
| May 5 , 2013 | Cantilon Choirs: Poets and Prophets th Spring Concert, McDougall United Church, 3.00 p.m. |
| May/June 2013 (TBD) | Bel Canto and Chamber Choir of Cantilon Choirs,Arden Theatre, St Albert, 2:00 p.m. and 7:30 p.m. |
President's Corner
Christmas is only four weeks away - and I'm sure that everyone's days are filled with shopping, baking and decorating. Please take time away from your hectic schedule on Sunday December 9th to come to our annual Christmas Carols and Tea at 2.00pm, where you can treat yourself to carol singing, tea, Christmas goodies and socializing. Vivien Bosley will lead the singing with Eryl Jones playing our favourite carols. Please come and join us.

Once again both of our autumn events, the Wine and Cheese, graciously hosted by Nance and Mike Smith, and the Potluck at the South east Edmonton Seniors, arranged by Marylin and John Isitt, were lots of fun with good food and great company This year at the Potluck, Maggie Dower and Glynys Hohmann prepared a game of "Who am I?" in whichwe had to guess the names of important Welsh people.

We had a full room at the annual Volunteer Appreciation Brunch with over 45 people in attendance. The support and help that St David's Society receives from so many people - members of the Society, members of the St David's Male Voice Choir and our many friends - is really appreciated. We could not function without their support.

There are some members who deserve special acknowledgments for their contribution to these events. The phoning Committee, Linda Franklyn and Sue North, contacted all members for all of these functions.

The St David's Welsh Society now donates two $500 annual scholarships for rugby players, one male and one female from the Strathcona Druids Rugby Club Junior programmes for the under-18-year-olds. The criteria for selection include athletic ability and good sportsmanship. On behalf of the Society, I am pleased to announce the 2012 winners: Amanda Smith and Jake Putkalo. Amanda Smith is a graduate of Bev Facey Community High School, Sherwood Park. She is currently enrolled in her first year at the University of Alberta. Her prowess in rugby has led to an invitation for trials for the under-20 Canadian Women's Rugby Team. Jake Putkalo attends W.P.Wagner School in Edmonton. Both players are worthy recipients of the new awards!

The other first for this year is that we are now donating to the Cantilon Choirs. Although Wales is best known for its male voice choirs, there is also a long history of mixed choirs. In keeping with our Welsh tradition of choral singing, donating towards the Cantilon Choirs will promote the development of choral tradition within the Edmonton area. The Cantilon Choirs organisation provides an opportunity to children from the ages of 4 to 19 to participate in performing choral music. The choirs have consistently been awarded superior standing in local, provincial, national and international competitions (twice at the Llangollan Festival) and have received numerous awards of excellence and achievement.

I am looking forward to the 2013 activities: St Dwynwen's Day, the Harp Competition and Evening Concert, the St David's Day Annual Banquet, the Celebration of Wales and the Rugby Breakfast event. The evening concert for the Harp Competition will be held at 7 p.m. on February 9th at McEwan Alberta College on McDonald Drive. All members of the Society and their family and friends are welcome to attend the concert to hear the participants in the competition. In addition, we are hoping to include a harpist and fiddlers at the evening performance. Last year's Harp Concert was a great evening of music. All of the candidates were excellent performers.

On April 7th, the first "Celebration of Wales" will be held. We hope this will be a showcase of Welsh music and words, with choirs and soloists, and readers. I wouldn't be surprised if there were some Welshcakes on hand too.

Nadolig Llawen a Blwddyn Newydd Dda

Eluned Smith
A Toast to our Hall-of-Famer: Dr. Ieuan Evans!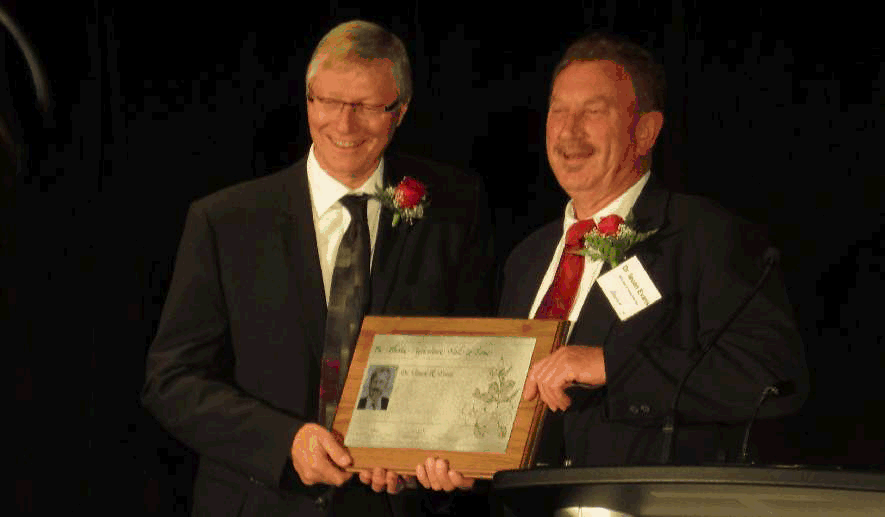 When you start a conversation with Ieuan Evans about himself, you might well imagine that he'd spent his whole life as a rugby player; but when you drive along the tree-lined streets of our City, you realise what his actual career was. Ieuan points to Dutch elm trees and explains why Edmonton has the only diseasefree urban forest of the trees in North America - a fact for which he is very largely responsible. And then he points out some ash trees (I myself am of the school 'Here's a tree and here's another kind of tree') and worries that there seems to be a new kind of disease attacking them. And then you begin to understand why in September, he was made a member of the Alberta Agriculture Hall of Fame - though this seems a bit redundant. Ieuan is already famous throughout North America as the creator of the Evans cherry tree, the most widely grown cherry tree in the area.
All this interest in botany and growing things was fostered on the small farm where Ieuan was born in Penclawdd on the western edge of the Gower Peninsula in South Wales. He grew up surrounded immediately by a hard-working family and the animals they tended, and farther away by the gossip-loving inhabitants of a small village. The rotation of the seasons and the rhythm of the crops gave him an early introduction into agricultural life and was instrumental later on in his pursuing graduate studies. "You'll have to do at least one year's internship on a farm" pontificated one would-be graduate advisor. "Have you looked at my address?" retorted the unabashed Ieuan.
A war-time farm childhood also taught him valuable lessons about navigating the intricacies of successful existence. He remembers a visit from the local policeman who was checking on his father's livestock holdings (during the war there were strict restrictions on the slaughter of animals for private and local use). "How many cows have you got, Mr Evans?" asked the policeman, ready to note down the answer on his list. "Sixteen," came the answer. "No, dad, that's wrong" piped up the eager young corrector. "We've got eighteen". The policeman turned to young Ieuan and said sternly, "You've got sixteen cows, boyo." He also learned to face down his demons. One night as he was coming home quietly from a fishing expedition (illegal), he was walking through a graveyard with his inseparable companion, his sheepdog, ahead of him, when a blood-curdling scream arose from one of the graves. Panic, and a headlong run that would serve him well on the rugby field. Ghosts? No, it turned out that his dog had surprised a badger.
High school grades got him a scholarship to Aberystwyth University to study science; his grades there got him into graduate school and finally he got a very rosy offer of a research fellowship at a university in Florida, where he spent a few years doing research into plant viruses And playing rugby. When he arrived, the Floridian rugby scene was pretty dismal, but he managed to mobilise a team of players and to chivvy them into a stunningly successful season. These were interesting years on several fronts: on one trip across the Atlantic, his ship weathered a hurricane of epic proportions, and when he got back to New York, the train was delayed for a day because Martin Luther King was marching on Washington.
After getting his Ph.D., he got several job offers. The most promising was from the University of Guelph in Ontario. Just after he arrived someone asked him where he was from. "Wales," he said. "You're the rugby coach, then." came the answer. And coach he did, bringing the team to the provincial championship, and having an award for best player named after him. The Ieuan Evans prize exists to this day.
Then he saw an advertisment for a job with Alberta Agriculture, which paid better than his university position, and was in a place where real estate was much less expensive - and where they played rugby, of course. Ieuan was heroic in his efforts at raising money for rugby facilities in Edmonton, and his name is inscribed among the most active members of the rugby club. And with Alberta Agriculture began a career which led to the recent award. Ieuan recognised early on the fact that much of prairie soil is deficient in copper. He did his own experiment sowing wheat in copper-enhanced soil. The yield increased dramatically. The problem was trying to persuade conservatively minded growers of this fundamental truth. They came round in the end and all experienced the same dramatic increase. Hence the nickname 'Doctor Copper' by which Ieuan is known in agricultural circles.
Ieuan's botanical interests cover a wide range. In addition to his interest in viruses and plant diseases, and wheat and elm and cherry trees, he has developed many kinds of lilies. Boxes of bulbs are dispatched around the world from Ieuan's greenhouses, many of them bearing the names of family members and friends. And thanks to Iruan's great generosity, many of them sprout in gardens of St David's Society members. When I asked if there was not a concern about the disappearance of variety of seed in today's marketoriented world, he scoffed that he has over 40 varieties of apples growing on his property .And those of us who have attended various pot-luck suppers of the St David's Welsh Society have been lucky enough to taste his home-grown blackcurrants in his delicious pies.
All of which has contributed to an extraordinary career in agriculture, doing things in which he is passionately interested, and allowing him at the same time to satisfy his rugby-playing interests. It has the stamp of a well-rounded life. The Hall of Fame Award is probably overdue, but it is certainly most well-deserved. Llongyfarchiadau, Ieuan!
Book Review
Ken Follett. Fall of Giants. Winter of the World.
As Christmas is hurtling towards us, here's a recommendation for a gift for those who might want to curl up with a long read through what promises to be a punishing winter. It's hardly a hot tip, as I read the review of the recently published second of these books in The Edmonton Journal. What I'd like to emphasise, however, is the Welsh aspect of this trilogy, and to suggest starting with the first one. The so-called Century Trilogy is concerned with the conflicts of the twentieth century - military, political, social, class, and deals with a breathtaking swath of characters in England, Russia, Germany the U.S. and Wales. We follow the same characters through their lives and get to know them and their children through a series of meetings, co-incidental and planned that include marriages that are English/Russian, English/American, Russia n/American , English/Germanand English/Welsh. Follett incorporates historical characters and events into his narrative: we recognise people like Winston Churchill and David Lloyd George and events like the Russian Revolution, Prohibition in America and the miners' strike in the Welsh mining valleys. Follett writes in remarkable detail of such disparate things as life in a factory in St Petersburg, garden parties in Buffalo, New York, and debates in the Houses of Parliament.
Fall of Giants begins with the first of many acts of cruelty that inform both books. Young Billy Williams, who is scarcely more than a child, is headed for his first day down the pit in his native village of Aberowen. A seasoned overseer imagines it his task to initiate Billy by leaving him alone and terrorised for several hours in pitch darkness in a remote niche in the mine. In the meantime, his very pretty older sister Ethel, is employed as housemaid at Ty Gwyn, country seat of Lord Aberowen, owner of the land the coal lies under, and hence one of the wealthiest men in Great Britain, who has his own way of exhibiting cruelty. Both siblings are caught up in the tumultuous events of the early part of the century: the horror of the First World War in France, and the social upheavals at home that include the suffragette movement and the rise of the Labour Party. Both have had early training at home in verbal self-defence, as their father is an articulate and respected speaker in chapel and in public meetings, and both use their skills to get out of sticky situations and into positions of responsibility.
Winter of the World begins with the institutionalised cruelty of pre-war Nazi Germany and the Spanish civil war. The characters around the world who thought they had fought the world's last war are appalled that their children are being sent off to do the same thing all over again. Many of them see the world from a very different perspective, as the social order has changed, and some of the mighty have been brought low, whereas the humble have risen to great heights.
I don't, of course, want to give away too much: there is a lot of death and carnage in the Russian and Spanish Revolution and two world wars; and in scenes like the one in Aberowen when the postman is delivering doom-laden messages during the first world war, we are on tenterhooks to know who will survive, so I cannot reveal who does - nor who marries whom, nor who spawns children, legitimate and illegitimate. There are passionate love stories, satisfied and frustrated, among them, and marriages of interest. All of which makes for a great read. I can't wait for the third volume.
Musical Gift
If music is a better gift for some of those on your list, then you might think close to home and try our own Ceri Owen Jones. Ceri's new CD is out just on time for Christmas. It's Welsh folk music for quiet listening. He plays with the small group some of us heard here in Edmonton, earlier in the year, fiddlers Elsa Davies and Gwilym Hardy. The CD is called Medlar Pear and is available at http://medlarpear.moonfruit.com.